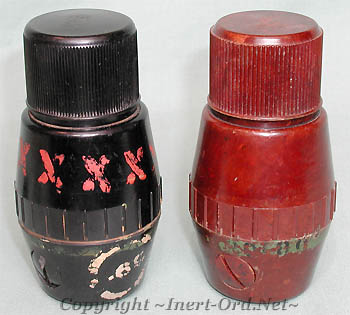 No.69 Mk.I
Introduced in 1940 as a light offensive grenade, it was intended to be used in the open without need for defensive cover.
The body components are made of Bakelite plastic, or for later production, an "approved molded composition".

The No.69 was found to be lacking in adequate lethal effect for a combat grenade. Used for training purposes, as an artillery simulator, it proved overly dangerous due to the large (.50cal) ball contained in the fuze mechanism, which presented a random fragmentation hazard. Still, it saw extensive service during WWII, eventually being declared obsolete in 1947.

The "XXX" indicates the grenade is suitable for tropical use. The green band indicates a filled of Amatol or Baratol (20/80). No colored band (or "LYD") indicated Lyditte.