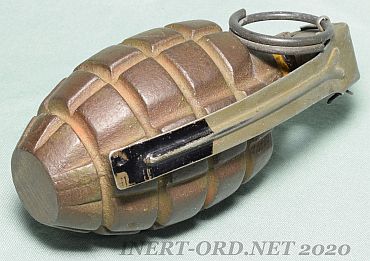 Mk.II Black-Tip Spoons
Occasionally, a Mk.II will be found with the end of the lever painted black.
This indicates the grenade was refuzed at a field renovation depot.

Per TM9-1905 (Dept. of the Army, Sept 1948)
Ammunition Renovation

Figure 113 - Field set-up for refuzing the Mk2.
Various stations identified by letter, moving left-to-right.

Figure 117 - Refuzing step at station "D"

Figure 118 - The stenciling operation, also at station D.
"The requirements of this manual apply to all Army personnel engaged in field renovation of ammunition; they do not apply to ordnance depot activities, ....".

Unfortunately, the manual does not cover the specifics, just the basic proceedures. In general, this effort was about routine maintenance, reconditioning, renovation and salvage, as well as the destruction of munitions unfit for service.