On a few pages you will see a blinking blue dot



This indicates a sub-page you are welcome to visit, for expanded subject material, supplemental images, etc..
(Click the dot on that page.)

You will be prompted for a User Name and Password. Enter as shown (case sensitive):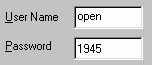 Note, Nov 2020:
Bandwidth isn't as big an issue these days, so I'm slowly removing password requirements.
Some dots still require it though.
The guestbook will remain behind the password lock however.
Seems to be good enough to keep the crawlers at bay. No sense opening that up I think. -ej

A blinking red dot

- Not available to the public. All those should be removed by now.