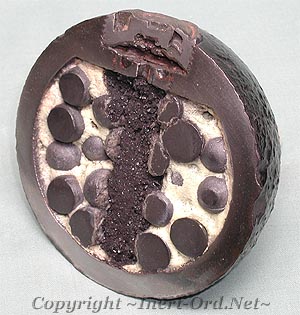 It consisted of a thin walled shell loaded with iron or lead balls, a small bursting charge and a time fuze. The shell was intended to explode in flight, just prior to reaching the target. The bursting charge was designed to be just strong enough to rupture the case and release the balls, which continued along the original path of the projectile, creating the effect of close range canister. It proved an effective weapon and was significant to the continued dominance of smooth bore artillery on the battlefield after the appearance of the rifled musket.

At left is a sectioned 12lb Spherical Case (Federal, circa 1864). It is 4.5 inches in diameter with a Bormann time fuze. The shell is manufactured by placing lead balls into the hollow shell, then filling it with molten sulfur which cools and forms a solid matrix. A central cavity is drilled out, then filled with black powder. Finally the fuze is screwed in, completing the round.
Maximum range was about 1,200 yards.